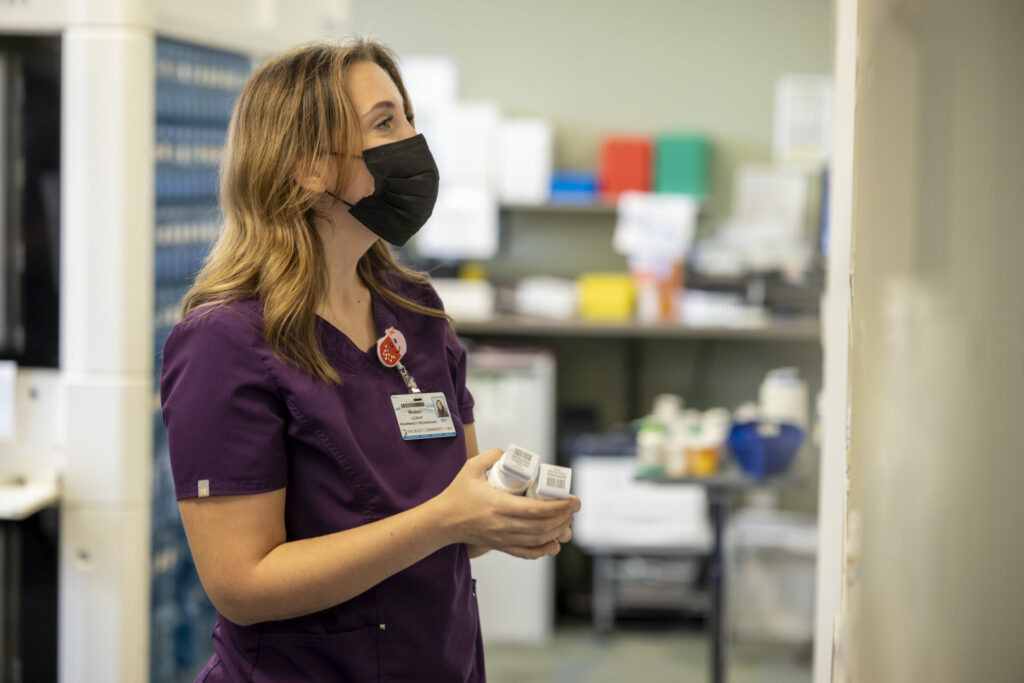 Our excellent team of Registered Pharmacist and Certified Technicians are here for you! We meet our customers where they are; whether you are at home and not comfortable entering our building, or if you need to speak with a pharmacist on-site. Our caring staff will ensure the best patient experience that meets your needs.
The Hackley Community Care pharmacy even has options to assist with out-of-pocket costs. Have questions about your copay, or the best schedule to adhere to when taking multiple medications? Our team has you covered.
Do you have an appointment with your primary care, mental health provider, or dentist? If they prescribe a prescription during your visit, you can get your prescription refilled before you leave our building. The Hackley Community Care pharmacy is conveniently located on the first floor of our Baker Site.
Our Community Care Pharmacy staff communicate and works closely with your health care providers, to provide quality care and service that meet each individual's need.
If you need assistance creating a medication list, or organizing your medications for daily use, our registered pharmacist and licensed technicians can assist you with both. Additionally, we can provide counsel on the benefits of your medication and how to take them safely, help you understand formulary issues, and apply prescription discounts. Our team can also provide community resources to help with supplies such as diabetic testing strips.
There is no need to look any further. Community Care Pharmacy is here to help – care you trust, respect you deserve.
We offer a drug takeback service to safely dispose of your unused and outdated prescription medications. Just drop off at our pharmacy for safe disposal. 
Transfer Prescription to Community Care Pharmacy
We are here to support your health and well-being. You may request a transfer of prescriptions to Community Care Pharmacy by using the form below or by calling 231-737-9510. We will respond to your form inquiry within 2 business days.
For your protection, please do not use this form to send confidential/patient information or request healthcare advice. If you have a question related to your healthcare, please contact your primary care provider.