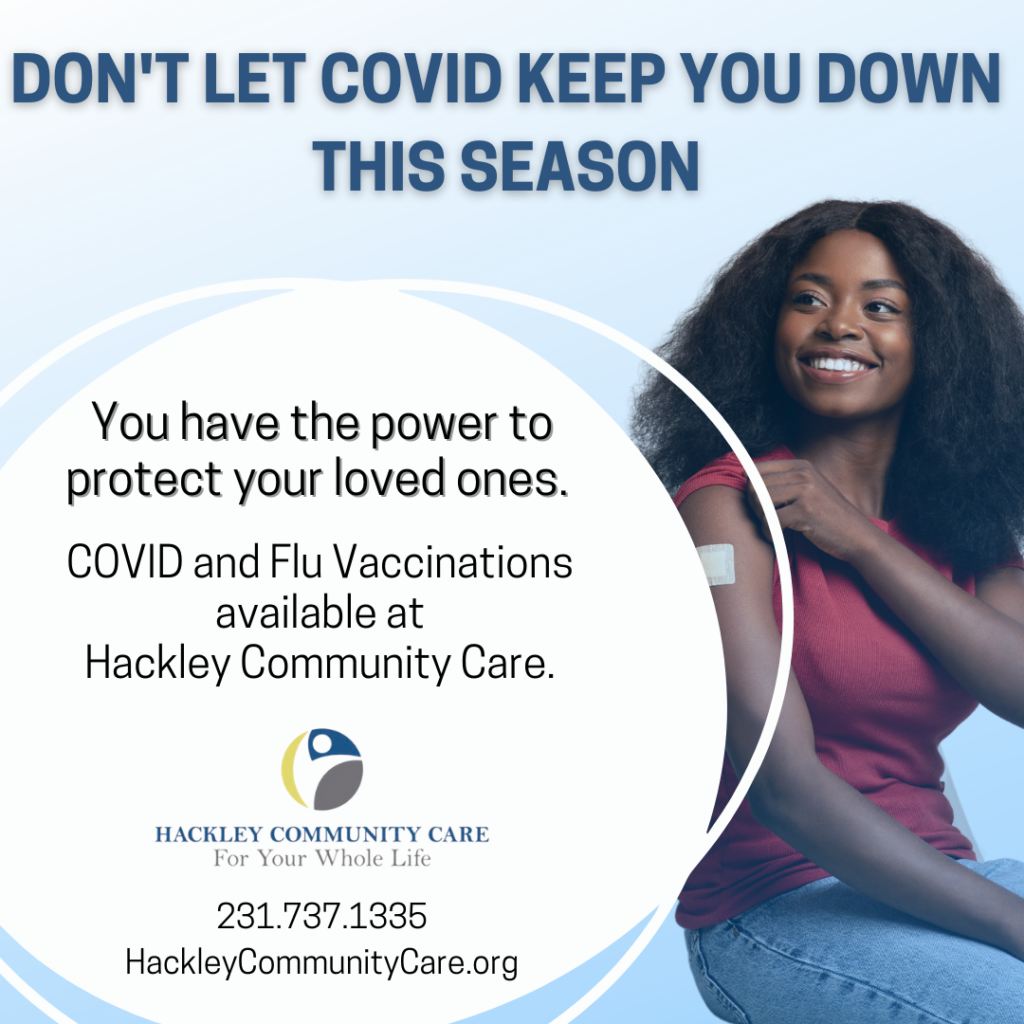 Hackley Community Care (HCC) in Muskegon continues to offer the COVID-19 vaccine to our patients and community members ages 6 months and older. Vaccines are available at the following sites: 2700 Baker Street, 1675 Leahy Street Suite 201, 172 E Forest Avenue, Muskegon Teen Health Center (80 W. Muskegon), Oakridge Teen Health Center (251 S. Wolf Lake Road), and the Integrated Health Clinic (HealthWest).
Walk-ins for COVID-19 vaccines are welcome at our Muskegon sites during regular business hours. You can also schedule an appointment over the phone. If you are an HCC patient, you can receive the vaccine at your next in-office appointment.
If you are experiencing any symptoms of COVID-19, or are reaching out only to be tested, please call our office at 231.737.1335 to find out if you should be tested or seen.
Our Clinton NowCare location offers walk in services to patients experiencing flu, COVID-19, or other viral type symptoms or illness. A flu or COVID-19 test is available if needed, during your visit.
We are here to help! Please call 231-737-1335 with questions.
Marketplace Coverage and Coronavirus
Need health insurance?
Open Enrollment is over. You can still get 2023 health insurance 2 ways:
If you qualify for a Special Enrollment Period due to a life event like losing other coverage, getting married, having a baby, or based on estimated household income.
If you qualify for Medicaid or the Children's Health Insurance Program (CHIP). You can apply for these programs any time
Learn more at: www.healthcare.gov/quick-guide/dates-and-deadlines/
Make a Telehealth Appointment
Hackley Community Care offers Telehealth services to provide care to our patients from the comfort of home. For information about registration and requesting an appointment please visit our Telehealth page.
Hackley Community Care has several new procedures in place to protect the health of our patients and staff during your next visit. Please watch the videos below for a brief overview of what to expect when you come to see us.
Visiting Our Medical Offices
New procedures in our medical offices include screening questions, use of face masks and personal protection equipment, along with thorough sanitization measures.
Visiting Our Dental Offices
Our Dental Department now has updated hours and enhanced check-in procedures along with screenings, socially distant waiting rooms, and thorough sanitization procedures to keep you safe.